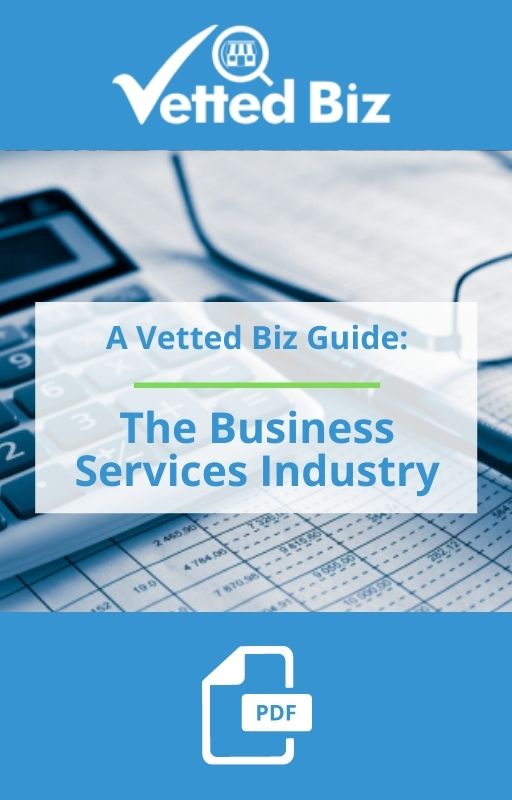 Franchise and Small Business Industries: Free Guides Available
Learn How to Make Money in Business Services | Insurance, Accounting, B2B Selling and More!
What's Inside?
Download our free brochure to learn about industry numbers including success rates and low cost, high profit business opportunities.
Learn about low cost, profitable franchises in photocopying, printing, mailbox rental and support, blueprinting, parcel and mail delivery, office administration, hiring and placing of personnel, consulting, security services, travel arrangement, cleaning, and waste disposal.


Why entrepreneurs like this industry:
Allows for a steady stream of recurring revenues, with many services offered for a high margin
The business to business (B2B) focus provides the investor with a client base that will keep returning as long as they provide a good
service
28 million businesses in the U.S. that need all sorts of services
Strong profit margins of >15%
Franchises & Businesses For Sale Include The Following Brands
We have reviewed past closures, openings, financials, litigation and more!
Nextaff
PostNet
Supporting Strategies
Tax Care
TaxLeaf.com
Hommati
CMIT Solutions
Express Employment Professionals
FASTSIGNS
Servpro
The UPS Store Non-Traditional
The UPS Store Traditional
Crestcom
Liberty Tax Service
Schooley Mitchell
Minuteman Press
Brightway Insurance
Labor Finders
Spherion
Patrice & Associates
Pridestaff
Office Evolution
Birthday Pak
Signarama
H&R Block
Fiesta Insurance
Proforma
Fully Promoted
Community Care Options
Snowfox
WSI
Apex Fun Run
Sonitrol
Money Pages
Electronic Restoration Services
Payroll Vault
Device Pitstop
Bringpro
AlphaGraphics
Clothes Mentor
Unique Markets
Tax Tiger
Cousins Maine Lobster
Inxpress
Murphy Business
M3 Linked
Expense Reduction Analysts
Natural Awakenings
The C12 Group
Atwork
Get Air
ACFN
Link Staffing
Supergreen Solutions
Travelcenters Of America
ResourceOne
Network Lex
The Scout Guide
Pronto
MyTaxFiler
Crown Trophy
Remedy Intelligent Staffing
Redbox+
Legal Docs By Me
Toro Taxes
Network In Action
Sculpture Hospitality
Loyalty Networking
My Gateway Tax Service
Itex
The Intelligent Office Centers
Allegra
Siempretax
Connectshare
National Property Inspections
Paramount Tax & Accounting
Win Home Inspection
Letip
Jomsom Staffing Services
Padgett Business Services
The Ivy Review
Instant Imprints
Gecko Executive Hospitality
Atax
Cbd American Shaman
BNI
Actioncoach Business Coaching
I.M.Dripbar
Unishippers
Valpak
We Sell Restaurants
Running Boards Marketing
Regus
Sandler
Sanford Rose Associates
SCA
Social Indoor
Speedpro
Strategic Leaders Academy
System4®
Global Recruiters Network
Happy Tax
The Interface Financial Group
Jackson Hewitt
Jet Black
Keystone Insurers Services Group
Lendio
Management Recruiters International
Computer Troubleshooters
N2 Publishing
Real Producers
Belocal
Nexterus
P3 Cost Analysts
NiteLites
Signs By Tomorrow
All Medsearch
Renaissance Executive Forums
CRITERIUM ENGINEERS
TAB
RSVP
Recyled Granite
Sitting Made Simple
Security 101
ColorTyme Rental Store
Enviro-Master
Click IT
Fastest Labs
GlobalGreen
Granite America
Adventures in Advertising
TheHomeMag
AdviCoach
Image360
Sir Speedy
COMMISSION EXPRESS
AmSpirit Business Connections
Town Planner
Engage & Grow
American Immigration Center
ASI System
Los Taxes
Supply Pointe
Goodbye Graffiti
City Publications
ApTask
Blue Eagle Investigations
Pump It Up
American Poolplayers Association
The Launch Pad
Inside Coup
Senior Care Authority
Estrella Insurance
Essential Pros
TownePost Network
Valbridge
Valenta BPO
Veronica's