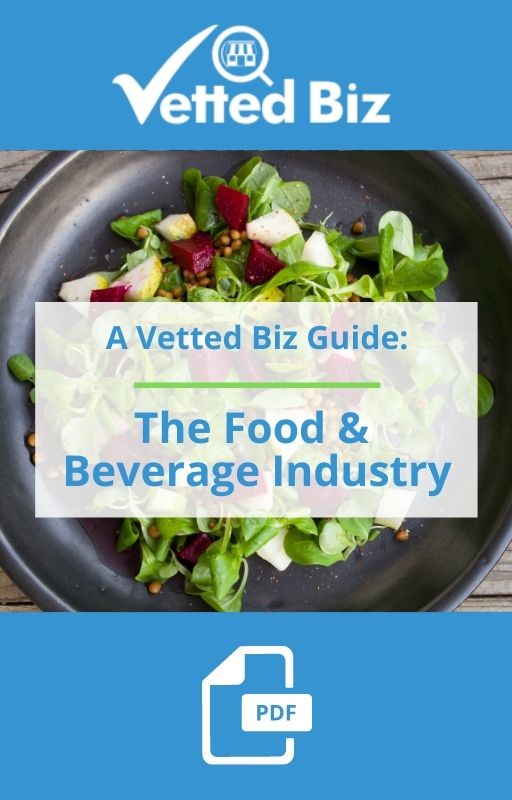 Franchise and Small Business Industries: Free Guides Available
Learn How to Make Money in Healthy Food | Alternative to Burgers, Pizza and Chicken
1 in every 3 Americans reported eating at fast food / quick service restaurants at any given day. About 37 percent of consumers say they regularly buy foods with those labels such as terms such as "natural" or "local."
What's Inside?
Food and Beverage businesses provide a range of dining options, such as healthy fast food, dessert and coffee. The past 30-year success ratio for loans issued to franchises within the Food and Beverage industry showed that for every 4 loans that were Paid In Full, 1 Defaulted.
The market for healthy eating options is one of the fastest growing segments of the food industry as consumers gain more awareness regarding what they eat.
Vegan, gluten-free, lactose-free, organic, preservative-free are some examples of the options that these healthy food concepts now offer. Concepts in this industry provide all the training and knowledge in order to ensure their investors succeed, regardless if they have restaurant experience or not.
Why entrepreneurs like this industry:
Consumer tastes have certainly evolved over the last 10 years. Healthy living lifestyle habits are continuing to grow in various segments of the
population as consumers are much more aware of the quality of food and meals they eat.
This trend is not a fad and is here to stay. Healthy eating is preventive to
many health issues that could develop later on in life and overall provides a better quality of life.
Learn about food franchises and the growing health food segment
| | | | |
| --- | --- | --- | --- |
| Cinnaholic | Chicken Guy! | Bake Cheese Tart | Jon Smith Subs |
| 1000˚ Degrees Pizzeria | Verve Restaurants | Tutti Frutti | Krispy Kreme |
| Amorino | Tru Bowl | Erik's Delicafe | La Madeleine |
| LemonShark Poké | Junbi | Bar Louie | Little Big Burger |
| Saladworks | Spoleto Italian Kitchen | We, The Pizza | Long John Silvers |
| Boardwalk Fries | Yoshinoya | Sbarro | Fuddruckers |
| Creamistry | Kisses From Italy | Rusty Taco | Carbone'S Pizzeria |
| Elevation Burger | It's A Grind | Foodjets | I Heart Mac & Cheese |
| Firenza | Southern Maid Donuts | Handel's Homemade Ice Cream | Mango Mango Dessert |
| Gloria Jean's Coffee | Chatime | Grater Grilled Cheese | Menchie's |
| Grain and Berry | Country Kitchen International | Patxi's Pizza | Milkster |
| Jamba Juice | Pretzelmaker | Yogurtland | Monk's Bar And Grill |
| Le Macaron | Bottoms Up Espresso | Huddle House | Mr Brews Taphouse |
| Mooyah Burgers | The Dapper Doughnut | Bento Sushi | Sweetfrog |
| Paciugo Gelato Caffè | The Krave Kobe Burger Grill | Delivery.Com | Mucho Burrito |
| Baja Fresh | Crepe Delicious | Suki Hana | Naf-Naf Middle Eastern Grill |
| Rush Bowls | Hummus Republic | Proteinhouse | Nathan's |
| Totally Nutz | Gus's World Famous Fried Chicken | Streetchurros | Newk's Eatery |
| Vitality Bowls | The Simple Greek | Mai Sushi Bar | Northern Lights Pizza Company |
| Which Wich | Blue Martini | Teapioca Lounge | Oath Pizza |
| Ziggi's Coffee | Mahana Fresh | Mini Monster Café | Orange Leaf Frozen Yogurt |
| Ben & Florentine | Afuri | Waffle Cabin | Papa Murphy's |
| Pho Hoa & Jazen Tea | LA Crawfish | Vito & Nick's | Perkins Restaurant & Bakery |
| Juicy Burgers | The Lost Cajun | Noble Roman's Craft Pizza & Pub | Perko's Café Grill |
| L&L Hawaiian Barbecue | Panini Kabob Grill | The Original Pancake House | Wow Wow Hawaiian Lemonades |
| Maui Wowi | Zero Degrees | Pelican's Snoballs | Shawarma Stackz |
| PJ's Coffee of New Orleans | Pizza Guys | Advanced Fresh Concepts | Tifa Chocolate & Gelato |
| Poké Bar Dice & Mix | Sertinos | Zeek's Pizza | JUICE IT UP |
| The Brass Tap | Clean Juice | Copper Branch | Dessert'D Organic Bake Shop |
| The Counter | Corelife Eatery | Aroma Espresso Bar | Chickpeas Kitchen |
| Arby's | Nothing Bundt Cakes | Bobii Frutii | Crazy Otto's Diner |
| Auntie Anne's | Broken Yolk Cafe | Woops! | Beyond Food Mart |
| Baskin-Robbins | Cookie Advantage | Great Greek | Pizza@ |
| Ben & Jerry's | Vitaly | Silverlake Ramen | Pizza Ranch |
| Blaze Pizza | Board And Brew Restaurant Group | Pocket Deli | A&W |
| Bojangle's Famous Chicken'n Biscuits | Bad Ass Coffee Company Of Hawaii | The Waffle Experience | DQ Treat |
| Checkers | Bahama Buck's | Salata Salad Kitchen | STEAK ESCAPE SANDWICH GRILL |
| Cinnabon | Sweets4Treats | Bonchon | Taco John's |
| Culver's | Sharky's Woodfired Mexican Grill | Godfather's Pizza | Häagen-Dazs |
| Dairy Queen Treat | Elbows Mac N' Cheese | Taffer's Tavern | Cousins Subs |
| Dunkin' | Villa Pizza | Snowdays | DQ Grill & Chill |
| Firehouse of America | Green Leaf's Beyond Great Salads | Playa Bowls | BAB |
| Freddy's | The Flame Broiler | Sizzler | Pancheros |
| Fuzzy's Taco Shop | Ululani's Hawaiian Shave Ice | Moge Tee | B-Bop's |
| Golden Corral | Bananas Smoothies & Frozen Yogurt | Johnny Rockets | Buck's Pizza |
| Hardee's | The Pie Hole | Tom's Urban | Panera Bread |
| Jersey Mike's | Rise | Presotea | Gina Maria's Pizza |
| Jimmy John's | Cheba Hut | Philly's Best Chessesteaks | Qdoba |
| KFC Non-Traditional | Lumberjacks | Chili's | Uno Pizzeria & Grill |
| KFC Traditional | Baby's Badass | Slices | Shuckin Shack |
| Kilwins Chocolates | Slater's 50-50 Franchise | Uncle Sharkii Poke Bar | Jeremiah's Italian Ice |
| Kona Ice | Smoothie Factory | Gfg Bakery Cafe | Lennys Grill & Subs |
| Marco's Pizza | Chop Stop | Cheesetella | East Coast Wings + Grill |
| McDonald's | Smashburger | Chungchun | The Flying Biscuit |
| McAlister's Deli | The Great Frame Up | Nextbite | Round Table Pizza |
| Papa John's | Fosters Freeze International | Churroholic | Zoup! Restaurants |
| Pizza Hut Non-Traditional | The Boiling Crab | Tapioca Express | Cicis |
| Pizza Hut Traditional | Dave'S Hot Chicken | illy | Cosi |
| Potbelly Sandwich Shop | Port Of Subs | Jinya Ramen Bar | Taziki's Mediterranean Cafe |
| Smoothie King | Saffron Mediterranean Kitchen | Champs Chicken | Dog Haus |
| Sonic Drive-In | Quaker Steak & Lube | Mrs. Fields | Brown's Chicken |
| Taco Bell Express | 7 Leaves Cafe | TCBY | Buffalo Wings & Rings |
| Tropical Smoothie Café | Hot Dog On A Stick | The Cookie Dough Cafe | Doner Kebab |
| Teriyaki Madness | Submarina California Subs | America's Dog And Burger | Rise'n Roll Bakery & Deli |
| Apple Spice | Paavo's | Village Inn | Pieology Restaurants |
| Island Fin Poké | Burger Boss | Angry Crab Shack | Wings Etc |
| The Donut Experiment | The Melting Pot | Aurelio's Pizza | Chicago's Pizza with a Twist |
| Urban Bricks | Boston Pizza Restaurants | Bb.q Chicken | Dunn Brothers Coffee |
| Charleys Philly Steaks | Quiznos | Beavertails | Bambū |
| Edible Arrangements | Strings Italian Cafe | Beerhead Bar & Eatery | Monical's Restaurant |
| Chester's | Beard Papa's | Bellacino's | Johnny's Italian Steakhouse |
| Buffalo Wild Wings | Paradis | Ben's Soft Pretzels | Jason's Deli |
| Honey Baked Ham | Twin Restaurant | Benvenuto's Italian Grill | Pita Pit |
| Subway | Fat Tuesday | BGR Burgers | GRIMALDI'S PIZZERIA |
| Wienerschnitzel | Western Sizzlin | Bimbo Bakeries | Jet's Pizza |
| Hungry Howie's Pizza & Subs | T-Swirl Crêpe | Bopngrill | Roll On In |
| Rosati's Pizza | The Original Mel's | Broadway | Roly Poly |
| Captain D's | Marble Slab Creamery | Brothers Est. 1967 Bar & Grill | Hook & Reel restaurant |
| Moe's Southwest Grill | Rapid Fired Pizza | Bruegger's Bagels | B.GOOD |
| Penn Station East Coast Subs | Scooter's Coffee | Burger King | Reis & Irvy's |
| Mountain Mike's | Matiki Island B.B.Q. | Carl's Jr. | Corner Bakery Cafe |
| Donatos | Strickland's | Panda Express | BurgerFi |
| Great American Cookies | Cream | Clean Eatz | Rascal House |
| Schlotzsky Austin Eatery | Mister Softee | Coffee News | Mr. Delivery |
| Gyu-Kaku Japanese BBQ Restaurant | Chronic Tacos | Nestle Toll House Café | Mason's Famous Lobster Rolls |
| Hooters | Pokéworks | Crooked Pint Ale House | BoomBozz |
| Nékter Juice Bar | Baked Cookies & Dough | Falbo Bros Pizzeria | DMK Burger Bar |
| Black Bear Diner | Corporate Caterers | Denny's | Tony Roma's |
| Togo's | Inchins Bamboo Garden | Dickey's Barbecue Pit | Bruster's |
| Capriotti's Sandwich Shop Inc. | Lollicup | Jack In The Box | Erbert & Gerbert |
| Orion's | Your Pie | Donatos Pizza | Beggars Pizza |
| Old Chicago Pizza & Taproom | Wayback Burgers | Drnk Coffee + Tea | Quack Daddy Donuts |
| Duck Donuts | Mod Pizza | Earl Of Sandwich | NoBaked Cookie Dough |
| Elmer's | Baekjeong | Earthgrains | Extreme Pizza |
| Bombshells Restaurant & Bar | Popbar | Einstein Bros. Restaurant | PizzaRev |
| MIO SUSHI | Me-N-Ed's Pizzeria | Famous Dave's | Pop's Italian Beef & Sausage |
| Sub Zero | Curry Up Now | Lee's Famous Recipe | Meatheads |
| Tsuta | Hot Fries | Fat Shack | Scotty's Brewhouse |
| Smoking Pig BBQ | Steve's Pizza | First Watch | Three Dog Bakery |
| Leanfeast | Hot Head Burrito | Freshii Restaurant | Sweetwaters |
| Nikko | Hot N Juicy Crawfish | Beef 'O' Brady's | Hotshots |
| Fuji Grill | Döner And Gyros | Fujisan | Tilford's Wood Fired Pizza |
| The Human Bean | Another Broken Egg Café | Gigi's Cupcakes Shops | Sugarfire Smoke House |
| Breadsmith | Cicis Beyond Pizza | Tom & Chee | Chicken Salad Chick |
| Burgerim | Caribou Coffee | TGI Fridays | Brixx Wood Fired Pizza |
| Sweet Jesus | Kono Pizza | The Halal Guys | Fox's Pizza Den |
| Fire + Ice | Biscuit's Cafe | Tap House Grill Addictive Food/Creative Brews | SMOKE'S POUTINERIE |
| Pizza Schmizza | Church's Chicken | Texas Roadhouse | SOUTH PHILLY STEAKS & FRIES |
| Figaro's Pizza | Slim Chicken's | U-Swirl-N-Go Store | Romeo's Pizza |
| Sombrero Mexican Food | Five Guys | Papa Saverio's | BUBBAKOO'S BURRITOS |
| Ubatuba Açai Bowls | The Round Table | Wahlburgers | Books & Brews |
| Yogis Grill | Kolache Factory | Walk-On's Bistreaux & Bar | Growler USA Microbrew Pub |
| Jojo's Grill-A-Dog | Xpresso Delight | Wing-Stop | Wing it On! |
| Yi Fang Taiwan Fruit Tea | Dippin' Dots | Antioch Pizza Shop | Chill-N Nitrogen Ice Cream |
| The Buffalo Spot | Doc Popcorn | World Of Beer | KOKEE TEA |
| Dripp | Café Landwer | Yogurt Mountain | PINCHO |
| Above The Crust | Pada Sushi | Zaxby's | My Favorite Muffin |
| Red Mango | Mamoun's Falafel | Piara Pizza | Applebee's |
| Scooped Cookie Dough Bar | Trademark Pizza | Red Robin | Biggby Coffee |
| Fazoli's | Ori'Zaba's | Rita's Brand | Carvel |
| Tastea | Garbanzo Mediterranean Grill | Soft Pretzel Factory | Crisp & Green |
| Crumbl | Mokkoji | Stacked Pickle | Dominos |
| Sushi Freak | Umai | Steak n Shake | Everbowl |
| The Bad Ass Coffee of Hawaii | Prontoroni | Black Rock Bar & Grill | Happy Joe's |
| Apóla Greek Grill | Tabu Shabu | Global Orange | JL Beers |
| Pie Five Restaurants | Bubbleology | Glass Nickel Pizza Co | Kung Fu Tea |
| Fried Chicken Master | Golden Krust | Great Wraps | Mongolian Grill |
| Cool Hand Luke'S Steakhouse/Saloon | Una Más | Green Mill Restaurants | Paik's Noodle |
| Huckleberry's | Giordano's | Groutsmith | Red's Savoy |
| Two Hands | Daily Jam | Hoa Franchising | Rocky Rococo Pizza and Pasta |
| Bengal Bay Grill | Oggi's Pizza & Brewing | Humble Donuts Co. | Surf City Squeeze |
| Mellow Mushroom | Tijuana Flats | | |